Bona Verba from the Headmaster
Dear CLASSICAL Families and Supporters,
I would like to take this opportunity to remind you that on Thursday the Miami Township Board of Trustees will be holding a public hearing to deliberate on a proposed zoning change that would allow Cincinnati Classical Academy to move ahead with plans to repurpose the former International Paper Company building at 6285-87 Tri-Ridge Boulevard off Wards Corner in Miami Township for our permanent K-12 campus. (For background on this, please refer to my Facilities Search Update – September 2023.)
As the school leader and on behalf of the CLASSICAL Board of Directors, I would like to invite you to attend this important public hearing. It will be held at the Miami Township Civic Center, located at 6101 Meijer Drive, 45150, on November 9 at 6:00 PM. It's important to be aware that this public hearing coincides with our annual Open House. Unfortunately, this means that the CLASSICAL faculty, staff, and I won't be able to attend the public hearing.
Please be assured, however, that our Board of Directors, our real estate attorney, and the current building owner will present Cincinnati Classical Academy's case for changing the zoning to allow for educational use. Mr. Brian Elliff, Miami Township Planning & Zoning Administrator, will discuss the many reasons why the zoning commission voted unanimously (6-0) to reject our proposal for the zoning change at an October 5 zoning meeting. (For background on that meeting, please refer to my article, The Power of Civic Engagement.)
Mr. Elliff recently reiterated some of these reasons in a Business Courier article. The takeaway from that article is that Cincinnati Classical Academy wants to relocate to an isolated industrial area, located next to a gun shooting range, accessed by a single-lane road. Because the Courier article presents a gross mischaracterization of the issue, I would like to take this opportunity to address Mr. Eliff's specious arguments so that you are well informed ahead of Thursday's meeting.
I say "specious" purposefully. Specious arguments appear to be true, accurate, or correct at first glance, but are actually misleading or deceptive upon closer examination.
If you are interested, read on…
+ + +
First, however, it is instructive to note that public hearings on zoning issues play a crucial role in the democratic decision-making process, ideally ensuring that decisions related to land use and development are made with input from the community, are transparent, and reflect the diverse needs and perspectives of the residents and stakeholders affected by these changes.
This decidedly did not happen at the public hearing held at the Oct. 5 Miami Township zoning meeting. Those present at that meeting heard loud and clear from township residents, neighbors, and local businesses of their full support for the zoning change that would accommodate CLASSICAL's plans for a K-12 campus, each articulating the assessment that our high quality, tuition-free school would be beneficial to the township in many ways. Nevertheless, it is difficult not to conclude that members of the zoning board had made up their minds long before the public hearing that they do not want Cincinnati Classical Academy to move into the Miami Township community. After all, following three hours of testimony, they only "deliberated" on the many complex viewpoints, considerations, reports, and submissions for five minutes.
What follows are eight arguments presented by Mr. Elliff to the zoning commission on October 5; each argument was roundly refuted by Dr. Jed Hartings (our Board President), David Robertson (our real estate attorney), and dozens of residents and neighbors who spoke that evening during the public comment portion of the hearing. In addition to articulating Mr. Elliff's objections, I will provide evidence that the arguments are specious.
Argument One: The proposed site is located next to an outdoor shooting range, and children will be in danger of getting shot. Mr. Elliff reiterated this contention in the Courier article: "Elliff noted in the staff report for the Oct. 5 meeting the location is next to a shooting range. 'They don't think that's problematic, but it's a known problem. Whenever you have a school next to a shooting range, it creates a disruption,' he said."
At first glance, this appears quite concerning; it sounds like evidence that the school is being imprudent and negligent. What was not acknowledged in the public hearing or in the Courrier article is that the proposed school site is a heavily wooded hill that is 70 feet above the neighboring property, on which Sycamore Sporting Clays (SSC) is located. SSC is a club for shotguns, for skeet, trap and sporting clays. In contrast to rifles and handguns, shotguns discharge "shot" – numerous small pellets that are comparably low energy and low velocity. Their effective range is only 30-50 yards, and they can only travel a maximum distance of a few hundred yards when fired at an optimal 30-degree angle.
Furthermore, Mr. David Todd, the longtime owner of Sycamore Sporting Clays, spoke at the Oct. 5 public hearing to clarify the topography, the fact that no shooting occurs toward the school site, that they are only open 40 days of the year that coincide with school times, and that since 1951 there have only been two accidents at the shooting range, and both of them were self-inflicted wounds that occurred on the range and decades ago.
It is also worth noting that from inside the proposed school building one cannot hear shots at the distant range, and outside the building the shots are indistinguishable from construction noise and are about as loud as the I-275 traffic to the northeast. Contrary to the tendentious claims, the range would create no "disruption" at the school.
Argument Two: The Miami Township fire department's radios do not work inside the former International Paper building, and therefore this would put students at risk of dying in the event of a fire.
If there was no solution to this situation, then one could argue that no one should have ever occupied the building. At one time, International Paper boasted 1300 employees on site. Of course, there's a common solution to this issue. "In-building repeaters" are commonly used in larger buildings, including schools, to assist radio transmissions for firefighters. These devices are essential for ensuring that radio communication remains reliable for first responders when they are working inside large structures or buildings where radio signals may be weak or blocked by thick walls. There would be no risk to students as insinuated.
Argument Three: The proposed site for the school is in an isolated location.
Taken at face value, this sounds ominous until you consider what is meant by "isolated." In general, "isolated land" typically refers to a site that is physically separated from other developed or habitable areas by some form of natural barrier, infrastructure, or zoning designation. I suppose one could say that our current campus in Reading is isolated land, surrounded as it is by the Foxy Woods. Why this would not be conducive for a school is left unsaid.
In the case of the Tri-Ridge property, the site is set apart from neighboring property by its topography. Three sides of the property have a wooded hill that separates the proposed school building from neighboring properties. It's also one block from the Ward's Corner exit ramp for I-275 and very difficult for anyone who knows the area to characterize it as "isolated" in any way that would negatively impact a school.
Argument Four: The site has only one point of access off a "one lane road."
There is, in fact, no one-lane road involved with the proposed site. The site has a private two-lane drive that leads from Tri-Ridge Blvd., which is a four-lane, divided boulevard (see photo below) that is actually wider than the main Wards Corner Rd. Further, we contracted an independent group to conduct a traffic study that concluded that the site has more than adequate car stacking capacity to accommodate a student population of 1200-1300 students. The zoning commission has a copy of the results of that traffic study but made no mention of it in their deliberations or official report.
This is the access point to the proposed site that was characterized by the zoning staff as narrow.
Argument Five: Schools should be located 500 feet from industrial buildings, and since the proposed school site is located 300 feet away, this requirement is not met.
In argument three above, the zoning staff argue that the site is too isolated to be used as a school. At the same time, it also argues that the proposed site is not isolated enough. Although the proposed school site is 300 feet from the next building on a map, it is practically much further since this includes a 70-foot-deep ravine and mature forest. Further, there is no industrial activity in the neighboring building that could be harmful to children. Above all, there is no such requirement, according to the proposed zoning change, that stipulates a school building must be located 500 feet from an industrial building.
Argument Six: The Miami Township Land Use Plan encourages making a connection to the Little Miami Scenic Trail. It was argued that a school would have no reason to use or make such a connection.
At the October 5 meeting we made the point clear that we would indeed have many reasons to make a connection to the Little Miami Scenic Trail, beginning with cross country practice, an outdoor explorer's club, class nature walks, gardening club, and so on.
Argument Seven: Mr. Elliff suggested that Cincinnati Classical Academy would not be good neighbors because the school has not been following the building codes in their current location in Reading. Specifically, when the school built an additional classroom last summer, the school did not obtain the proper permits.
Even if this allegation were true, it is difficult to see how this is an argument about zoning. Rather, it appears to be an effete attempt at an ad hominem attack against Cincinnati Classical Academy. However, it is a false statement.
We did, in fact, engage in some minor renovations last summer in order to accommodate our growing student population. Most notably, we added two walls to create a classroom out of a portion of the existing auditorium. Those plans were submitted to the City of Reading for a building permit. No building permit was issued because, according to the City of Reading, no building permit was required for the kind of alterations we were making.
Argument Eight: The zoning staff stated in its report that "a school would not be a productive re-use strategy."
Stating that "a school would not be a productive re-use strategy" implies that converting a particular property into a school is not considered a practical or beneficial option for the area in question. This statement suggests that, based on the assessment by the zoning staff, repurposing the property as a school would not contribute positively to the community.
Reasons for deeming a school as an unproductive re-use strategy might include concerns about traffic congestion, safety issues, or the impact on the character of the neighborhood. All these objections were duly addressed by dozens of Miami Township residents and neighbors at the October 5 public hearing. They also addressed the many potential benefits, apart from education, that Cincinnati Classical Academy can bring to the Miami Township community including:
Economic Stimulus: Our new school will lead to increased economic activity in the local community. The commercial neighbors all know this, and that is why they signed a petition in support of Cincinnati Classical Academy.
Attraction for Families: The presence of Cincinnati Classical Academy will attract families to the township, bringing new residents and potential customers for local businesses.
Increased Property Values: The presence of a high-quality school like ours can boost property values throughout the township. Many homebuyers will be attracted to purchase a home in the township because of its proximity to the school, which can lead to increased demand and higher property values.
Community Involvement: The school will encourage greater community involvement through local events like our Veritatis Splendor speakers series held at the school. This can foster a sense of community and strengthen neighborhood ties.
Collaboration and Partnerships: Schools often collaborate with local organizations, businesses, and institutions. These partnerships can lead to joint initiatives, resource-sharing, and support for community programs. Hilton Garden Inn, for example, has already expressed a desire to partner with our school.
Improved Facilities: Our new schools will come with modern, well-equipped facilities that can also be used for community events and activities.
Community Meeting Space: Our school could provide meeting spaces for local organizations and events, offering a venue for various community activities.
The above benefits were well articulated by those present at the October 5 public hearing. Thus far, however, it appears that nearly all public voices in Miami Township – residents, neighbors, local businesses, and even the building owner (who has invested heavily in Miami Township) – have been dismissed in favor of a short-sighted vision that finds it difficult to listen to reasoned arguments and instead depends solely – it would seem – on the specious arguments put forth by the zoning staff.
In conclusion, I would like to emphasize my invitation to you all to participate in the Miami Township Trustees public hearing this Thursday at 6:00 PM. As I mentioned, public hearings provide a platform for community members, property owners, and other stakeholders to voice their opinions, concerns, and suggestions regarding proposed changes to zoning regulations. I hope that you will make yourself heard, especially if you live or work in Miami Township.
Keep in mind that public hearings can lead to compromises or modifications to proposed zoning changes that better reflect community consensus. This can result in zoning regulations that are more acceptable to all parties involved. Let's hope that will be the case for us.
Thank you for your continued support of Cincinnati Classical Academy!
Torches Up!
Michael Rose
Headmaster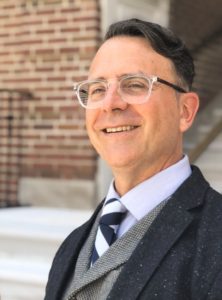 Mr. Rose has taught various courses at Brown University, Cincinnati Moeller, and The Summit Country Day School. As a part of his degree work in education, Mr. Rose's research interests included the Great Books curriculum, the Paideia teaching method, and the "effects of emerging digital technology on student reading, writing, and researching." Read More