Bona Verba from the Headmaster
As we continue on our "sentinel odyssey" in search of a permanent K-12 facility, I would like to provide you with an update on the recent developments regarding Cincinnati Classical Academy's application for re-zoning in Miami Township.
In a special meeting held on November 9, the Miami Township Trustees considered the school's application to re-zone a parcel at 6285-6287 Tri-Ridge Blvd to allow for educational use. The proposed zoning change was crucial for CLASSICAL's plan to establish a permanent campus accommodating a maximum student population for grades K-12.
Regrettably, the zoning change was denied in a unanimous 3-0 vote by the trustees. The decision followed nine months of extensive preparatory work by our Board of Directors, including the development of a lease-with-purchase-option agreement, site and remodeling plans, technical studies, and means for tax-exempt bond financing.
During the three-hour public hearing (available for listening here), concerns raised in a Miami Township zoning report became central to the decision. These concerns included the proximity of a gun club, road access, nearby industrial-use buildings, fire safety, spot zoning, and consistency with the township's land use plan. Despite the detailed presentations and a point-by-point rebuttal of the zoning report's arguments by our Board President, Dr. Jed Hartings, and our real-estate attorney, Mr. David Robertson, the zoning change was denied. (If you haven't read it already, you can read my own point-by-point rebuttal here.)
It is instructive to note, however, that the trustees avoided discussion about the school, site plans, and the traffic study during the hearing. Judging from their final comments, their decision seemed to be influenced by their belief that re-zoning to "agricultural" (the only zoning designation that directly allows for educational use) did not align with the township's long-term vision of industrial and commercial development, as if assuming that the school would inevitably close in a few years, leaving the township stuck with land that could only be used for raising crops or grazing cattle.
Despite the setback, we are grateful for the overwhelming support shown by our parents, students, and other community members during the public comment session. It is heartening to witness the dedication of our community to the success of Cincinnati Classical Academy.
Moving forward, we are exploring alternative zoning strategies with Miami Township, including the possibility of requesting a use variance under the existing "Planned Industrial" zoning for the property. This approach, if pursued, would be heard by the Board of Zoning Appeals. At the same time, our Board of Directors continues to explore properties in other central municipalities, including Blue Ash and Springdale.
We understand the importance of a permanent facility for our school's growth and stability. Rest assured, we are committed to navigating this challenge with resilience and determination. We will keep you updated on any further developments and appreciate your ongoing support.
Torches Up!
Michael Rose
Headmaster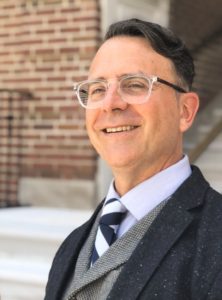 Mr. Rose has taught various courses at Brown University, Cincinnati Moeller, and The Summit Country Day School. As a part of his degree work in education, Mr. Rose's research interests included the Great Books curriculum, the Paideia teaching method, and the "effects of emerging digital technology on student reading, writing, and researching." Read More