The admissions lottery for grades K-7 has been run and seats offered for the 2023-24 academic year. Students applying after March 1, will be added to the grade-level waiting list.
Enrollment for the 2023-24 lottery for grades K-7 was held on March 6, 2023. You can still apply after the lottery has been run but will be added to our grade level waiting list.
Please use the link below in order to complete the SchoolMint application for each child you wish to enroll in grades K-7 for the 2023-24 school year.
What happens if my child is offered a seat?
If your child is offered a seat in the 2023-24 lottery, please follow these directions in order to register for the 2023-24 school year. 
The process includes 1) accepting the offer, and 2) completing the registration forms. In order to guarantee your child's spot for the upcoming school year, you must accept the seat within five business days of the offer and subsequently complete the registration process with our Registrar Mrs. Janet O'Callaghan.
STEP ONE: Accept the Offer (within five business days)
Please log into the Parent Dashboard using the hotlink here. If you don't remember your password, please use the "Forgot Password" link to reset your password. Once you log in, you should see the following screen. Please click on the "View Submitted Forms" button.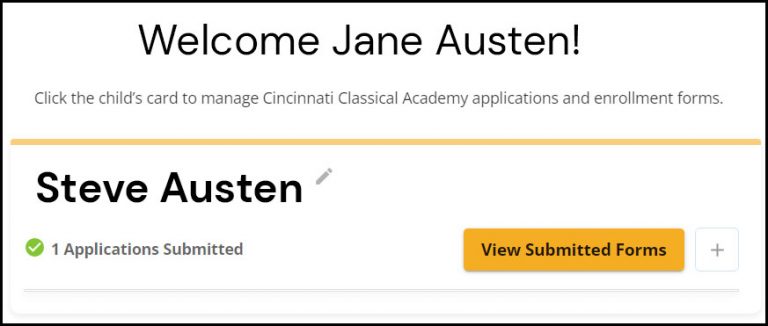 This will take you to the second screen. If you are ready to accept the seat for your child, click on the ACCEPT button: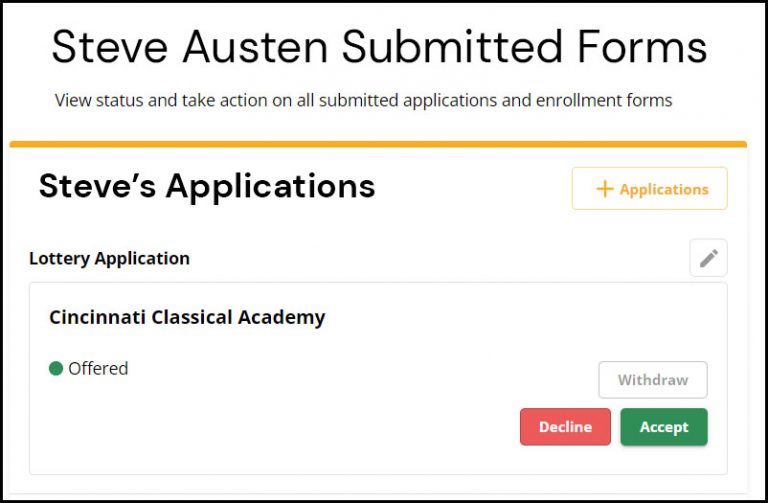 Once you accept the seat, you will receive confirmation via email which will include a link to Final Forms.  There you will start and complete the registration process. 
STEP TWO: Complete Registration in Final Forms
Required documents: Please note that you will be asked to bring documents to the registration appointment with Mrs. O'Callaghan as well as upload others. 
What happens if my child is placed on the waiting list?
If your child is placed on the waiting list for his/her grade level, you will also receive a number that indicates where you are on that waiting list. You will be notified again when and if accepted students decline their seats and your child is moved up to the offered list. At this point you will have five business days to accept or decline the offered seat. If you accept, please follow the directions above.