Bona Verba from the Headmaster
I wish to provide you with an update on our ongoing efforts to secure a permanent K-12 home for Cincinnati Classical Academy.
As previously communicated, our Board of Directors has been tirelessly searching for a permanent location to accommodate our K-12 campus. As you are aware, the next academic year will see us operating on a temporary split campus. Students in grades K-4 will continue their education at the Siebenthaler campus, while our middle school students in grades 5-8 will temporarily move to the Ss. Peter and Paul campus on Vine Street in Reading. We will be carefully planning staggered start times to make it more convenient for families who will have students at both campuses.
Our leading candidate for a permanent K-12 campus has been 6285-87 Tri-Ridge Blvd, located off of Ward's Corner in Miami Township. Unfortunately, we encountered a setback when, on October 5, the Miami Township Zoning Commission voted unanimously against granting our request to change the zoning to allow the use of the campus for educational purposes.
I want to emphasize the significance of this decision. The zoning commission's vote is a recommendation to the Miami Township Trustees, who will be holding a public hearing to further deliberate on our case. This public hearing will take place at the Miami Township Civic Center, located at 6101 Meijer Drive, 45150, on Thursday, November 9, at 6:00 PM. It is important to note that this hearing coincides with our school's Open House.
Our strategy and message for the Trustee meeting will be the same as for the zoning commission: a strong show of widespread support. If you will not be attending the Open House that evening, please consider attending the Trustee hearing. We will aim for standing room only once again so that our message is received loud and clear. If you are a Miami Township resident, we would like to ask you to consider speaking again. Finally, there will be an opportunity to write to the Trustees in support; information will be forthcoming on where and how to submit letters. Regrettably, neither I nor any of our faculty or staff will be able to attend this public hearing due to prior commitments to our Open House.
If, as we expect, the Trustees do not approve the re-zoning application, we will continue to apply to Miami Township using different zoning strategies. In fact, this process has already been initiated. With every option that we provide them, we eliminate one more reason to deny the application. Perhaps the township prefers "Mixed Use with Variances" over "Agricultural", or perhaps they would find a variance with the current "Planned Industrial" more palatable. We will provide these options, and each public hearing that ensues will be another opportunity to showcase our CLASSICAL community and build public support. There are already indications that this support is having an impact.
In addition, the Board of Directors and I have continued our search for suitable alternatives and back-up plans for a permanent facility. We are very fortunate to be searching in a time when the full impact of changes in workplace practices from the COVID period is being realized in commercial real estate: there are an unprecedented number of office buildings available. We have recently explored promising facilities in Springdale and Blue Ash, both of which have expressed interest in having our school as part of their communities. We want to assure you that we are actively searching for a location that is not only convenient for our current families but also in the best interest of our school.
As a commitment to keeping you well-informed about our progress, I intend to provide a monthly facilities search update. We greatly appreciate your continued support, patience, and understanding during this critical phase in our school's development.
Thank you for being a valued part of our community. Should you have any questions or concerns, please do not hesitate to reach out to Dr. Jed Hartings, President of the CLASSICAL Board of Directors.
Torches Up!
Michael Rose
Headmaster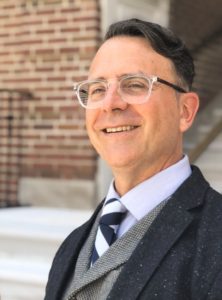 Mr. Rose has taught various courses at Brown University, Cincinnati Moeller, and The Summit Country Day School. As a part of his degree work in education, Mr. Rose's research interests included the Great Books curriculum, the Paideia teaching method, and the "effects of emerging digital technology on student reading, writing, and researching." Read More