Bona Verba from the Headmaster 
Our mission is to develop the minds and nourish the hearts of our students through a content-rich curriculum in the classical liberal arts and sciences, with instruction in moral character and civic virtue. We believe that CLASSICAL provides a unique experience that aims at human flourishing. 
In order to give our students this opportunity to flourish, we must first provide a safe and secure environment in which this human formation can happen. As we move toward our school opening over the next few months, we want you to be aware of the initiatives we are taking regarding campus safety and security. 
We are currently drafting our "Emergency Operations Plan" for fire, tornado, chemical spill, and active shooter scenarios. In doing so, we are consulting with security experts, local law enforcement, and fire-fighting officials to develop clear and comprehensive protocols and procedures that will best keep our children safe and secure in the face of any emergency, however unlikely, that might emerge in the course of a school day.
Although we are still very much in the process of readying the campus for our opening day at the end of August, here's what we've done and what we're currently working on regarding campus safety and security:
We have invested $10,000 on a new state-of-the-art building security system that includes strategically placed surveillance cameras that can be monitored from several locations throughout the school. 
We have established a single-entry building access point that includes a weather and vandal-proof dome camera with infrared LEDs for clear, around-the-clock surveillance and visitor entry as well as a keypad card reader for employee access. 
We have adopted a locked-door campus policy: Except for drop-off and pick-up times, these main entrance doors will be locked. All other exterior doors on campus will be locked at all times and no visitors will be admitted. 
We have moved the front office to a room with immediate access to the main entrance to ensure that no visitor moves beyond the school foyer without first checking in at the front office. 
We have adopted a mandatory sign-in procedure for all visitors on campus, including parents. Any visitor to campus between the hours of 7:30 AM and 4:00 PM must first report to the school office and will be required to furnish a U.S. federal or state-issued photo ID. The visitor's information will be stored in an electronic database to document visitors to the school and cross-check the BCI/FBI database. Visitors must check in with the front office and provide identification each time they visit the school, not just the first time. A visitor badge will be issued to the visitor and displayed conspicuously during the visit.
In addition to practicing tornado and fire drills, we will follow the State of Ohio mandate to practice two lockdown drills per year. These drills will be conducted in coordination with the local emergency management coordinator and police department. 
Our faculty and staff will be participating this August in mandated "active shooter training"; the school will be using the Navigate360 Emergency Management Suite in order to assist with this training.
We are also consulting with law enforcement officials regarding the prudence and practicality of engaging an armed resource officer on campus; this includes pursuing a grant that will fund that position.  
CLASSICAL takes very seriously the safety and security of its students and employees. The school faculty and staff will be vigilant in adhering to the protocols and procedures stipulated in our Emergency Operations Plan in order to keep our community safe so that we can go about the task of giving our students the opportunity to flourish.
Curate, ut valeatis!
Michael Rose, Headmaster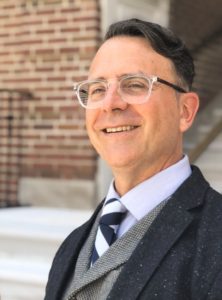 Mr. Rose has taught various courses at Brown University, Cincinnati Moeller, and The Summit Country Day School. As a part of his degree work in education, Mr. Rose's research interests included the Great Books curriculum, the Paideia teaching method, and the "effects of emerging digital technology on student reading, writing, and researching." Read More