Bona Verba from the Headmaster 
If you have been following us on social media or reading The Classical Sentinel over the past two months, you may have noticed that we've been introducing our 
faculty and staff 
to the world. Each of their brief bios includes a "favorite classical quote" — meaning one that has some academic value in keeping with our classical mission. The quotes come from classical thinkers ranging from Aristotle and Hugh of Saint Victor to C. S. Lewis and Luigi Giussani. It is no coincidence that many of these "favorite quotes" from our faculty and staff take up the subjects of goodness, beauty, and truth –three primary aims of classical education.
Someone recently asked me why, of all the great "classical quotes" throughout history, I picked "Beauty will save the world" from Fyodor Dostoevsky's novel The Idiot. To start, it's a simple statement with deep import, one that can be read literally or dissected theologically. It also evokes wonder and invites contemplation. What exactly is beauty? And why is it so important? "Beauty is truth, truth beauty'-that is all / Ye know on earth," writes John Keats. "Beauty is the splendor of truth," announces Plato. "By nature men desire the beautiful, "proclaims St. Basil the Great.
One of the aims of the education we are providing at Cincinnati Classical Academy is to seek out and appreciate beauty in its many forms — in the natural world (think of contemplating the stars on a cloudless night or walking through the Foxy Woods on a sunny May day), in music, in art, in literature, in a mathematical proof (weird but true!), and in human nature. Beauty transcends aesthetics; it evokes aspirations for what is good and true. That's also why we at CLASSICAL believe our students deserve a well-adorned, beautiful campus whereby they can flourish.
Speaking of our campus, as you may have surmised, we have a lot of work to get done over the next few months as we gear up to open our doors for our inaugural year. At the beginning of May, our front office opened its doors for Summer Hours (8 AM – 1 PM, M-F). On any given day, you can find Mrs. Hauck and Mrs. O'Callaghan ordering books, art supplies, music supplies, athletic equipment for our PE classes, and furniture (among the many other things they do each day!). You'll find Mr. Moeggenberg painting walls, waxing floors, cleaning windows, mowing the lawn, and moving furniture. Next month, you'll find Mr. Muse directing the many outdoor campus projects: landscaping, refurbishing the playground, mowing the fields, re-striping the parking lot, installing a new entrance awning, replacing cracked concrete, and the many other little projects that go into making our campus a more beautiful place to learn and play, a place more conducive to human flourishing.
As you might imagine, all these worthy projects take money to make happen. Yes, we receive funding from the state to cover operating costs, but you may be surprised to learn that the funding model used in the state of Ohio allocates just over $8,000 per student for public community schools such as Cincy Classical. It is instructive to note that Cincinnati Public Schools is funded at approximately $25,000 per pupil — over three times what we will receive, beginning in October.
That is why we depend on you, our supporters to bridge the gap so that we may provide the very best education to the students who will arrive on campus in August and in the very best environment for learning and playing that we can provide for them. We are striving for beauty in pursuit of the good and the true.
Your support of our mission and vision is essential as we move toward our August opening. As I mentioned, we have much work to do to ready the building and the grounds over the next few months so that we can provide the kind of beautiful place necessary for the natural human flourishing of our students, faculty, and staff. Please consider donating today. Cincinnati Classical Academy is incorporated as a non-profit entity in the State of Ohio and is recognized as a 501(c)(3) entity by the IRS (EIN 85-0609855). Thus, all donations are tax-deductible. Our mailing address is:
Cincinnati Classical Academy
170 Siebenthaler Ave.
Cincinnati OH 45215
For more information on how to contribute online, please visit our 
Ways to Give
 page.
We thank you for your support of Cincinnati Classical Academy, and we look forward to an excellent inaugural school year!
Curate, ut valeatis!
Michael Rose, Headmaster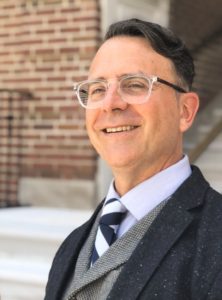 Mr. Rose has taught various courses at Brown University, Cincinnati Moeller, and The Summit Country Day School. As a part of his degree work in education, Mr. Rose's research interests included the Great Books curriculum, the Paideia teaching method, and the "effects of emerging digital technology on student reading, writing, and researching." Read More