Bona Verba from the Headmaster 
There's an old adage, often attributed to the great Vince Lombardi: "Perfection is not attainable, but if we chase perfection we can catch excellence." Since August 30, our faculty and staff at CLASSICAL have worked tirelessly to chase perfection. And since perfection is elusive in this life, as Coach Lombardi aptly acknowledges, we are fortunate to be have been able to catch excellence on occasion during our inaugural semester.
Through our mission to develop the minds and nourish the hearts of our students through a content-rich curriculum in the classical liberal arts and sciences, with instruction in moral character and civic virtue, we have "caught excellence" in the classroom, on the court, in the auditorium theatre, in the music room, in the art studio, and even at home.
I'd like to share with you an excerpt of letter of gratitude I received from a CLASSICAL parent who, last year, approached switching her three children to CLASSICAL with fear and trembling:
"Our kindergartner has been reciting nursery rhymes and making up creative new verses to songs learned in music. Her eyes light up as she does it. Our fourth grader is humming Prokofiev everywhere she goes. One day, when I visited school, she insisted we wait until the Georges de la Tour painting reappeared on the school video monitor so we could talk about it. She's reading for pleasure more enthusiastically than she ever has in the past. Our sixth grader is reading Homer and memorizing Poe. She has told both us separately that she prefers CLASSICAL to her previous school. This is a major turnaround for her.
"The girls' laptops, which we had to buy for their schoolwork at their previous school two years ago, haven't been opened in many weeks, and I keep getting urgent 'No Activity Reported' messages from the Norton Protection app.
"Furthermore, our older girls had a great volleyball season. The coaching was wonderful. Their coaches led the girls in operating as a team, supporting and uplifting each other and celebrating each other's small wins. They were role models for volleyball and for life. Never was the cheering louder than when one of the girls who had struggled with her serves made a point in a game. They closed out the season with a short speech for each girl, telling how her actions during the season related to one of the school's virtues. For both teams, there was an emphasis on both athletic excellence and high character."
The letter, I believe, captures the heart of the CLASSICAL mission and highlights how – and why – we live out this mission from day to day. It is instructive to note, however, that we recognize that parents are the first educators of their children, and we are merely assisting parents in that charge. I want to take this opportunity to thank all of you who had the courage to trust Cincinnati Classical Academy enough to send your children to our "startup" school last August. We believe your pioneering is and will continue to pay off!
Curate, ut valeatis!
Michael Rose, Headmaster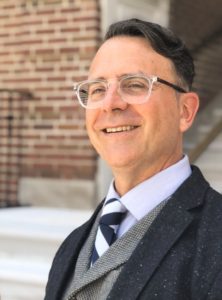 Mr. Rose has taught various courses at Brown University, Cincinnati Moeller, and The Summit Country Day School. As a part of his degree work in education, Mr. Rose's research interests included the Great Books curriculum, the Paideia teaching method, and the "effects of emerging digital technology on student reading, writing, and researching." Read More