Bona Verba from the Headmaster 
You might say that Cincinnati Classical Academy is a "Back to the Books" school. Along with all of the Hillsdale K-12 member schools, we believe in the importance of great books in a child's education; it matters what our students read. The books in our curriculum aren't chosen arbitrarily, from year to year, based on individual teachers' tastes – or the headmaster's taste, for that matter. The books in our curriculum are time-tested to be instruments that properly shape our students' moral imaginations.
In literature classes, this means reading and discussing the classics: Aesop's fables, classical myths, the stories of the Old Testament, the tales of King Arthur, American folk tales like "Rip Van Winkle" and "The Legend of Sleepy Hollow." It means Winnie-the-Pooh and The Tales of Peter Rabbit. It means Alice in Wonderland and Treasure Island, Sherlock Holmes and Robin Hood, Anne of Green Gables and Johnny Tremaine.
In our future high school years it means reading great works of literature like the plays of Sophocles and Shakespeare, epics such as The Odyssey and The Aeneid, short stories by the likes of Nathaniel Hawthorne and Flannery O'Connor, and of course classic novels by great authors like Austen, Dickens, Twain, Melville, Dostoevsky, Orwell, Kafka, and Solzhenitsyn.
It is with great excitement, then, that CLASSICAL is pleased to welcome Dr. Daniel Coupland as our inaugural speaker in our Veritatis Splendor Speaker Series, launching next week. He will be discussing "Education and the Cultivation of the Moral Imagination." Dr. Coupland is Dean of Hillsdale College's Graduate School of Classical Education and Hillsdale's former Dean of Faculty. His research focuses on classic children's literature and English grammar instruction. His course on Classic Children's Literature is available for 
free online here
. He is also co-author of the Well-Ordered Language series.
As CLASSICAL's head of school, charged in part with developing a sound school culture, it has been my intention from the beginning not only to deepen the knowledge and involvement of CLASSICAL's immediate school community in the life and mission of the school, but to educate and engage the community at large. To that end, Dr. Coupland will be the first in a series of nationally-renowned speakers invited to our campus each month or two to address thought-provoking topics related to our mission of promoting moral character and civic virtue through a content-rich curriculum in the classical liberal arts.
If you are interested in our mission, if you want to know more about classical education, or if you want to know why it's important to cultivate the moral imagination as a means to developing moral character and civic virtue, I invite you to join us for Dr. Coupland's talk next Tuesday, March 14 at 7:00 PM on campus in the Sojourner Truth Auditorium. You can register here now.
Curate, ut valeatis!
Michael Rose, Headmaster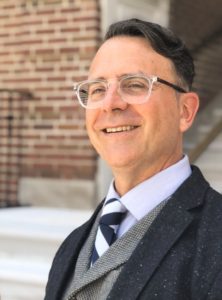 Mr. Rose has taught various courses at Brown University, Cincinnati Moeller, and The Summit Country Day School. As a part of his degree work in education, Mr. Rose's research interests included the Great Books curriculum, the Paideia teaching method, and the "effects of emerging digital technology on student reading, writing, and researching." Read More