Bona Verba from the Headmaster 
As evidenced by the articles in this month's newsletter, we've been busy delivering on our promise to develop the minds and nourish the hearts of our students through a content-rich curriculum in the classical liberal arts and sciences, with instruction in moral character and civic virtue.
We opened our inaugural academic year with 454 students (and now have 460 as I write this at the beginning of week three) in grades K-6. We launched two successful fall athletics programs, including four girls volleyball teams and a co-ed cross country team. We are beginning our first week of club activities, including 104 students signed up for our Taekwondo program, 50 students in chess club, another 50 in our Art Guild, along with dozens more students in our Gardening Club, Choral Ensemble, Musical Theatre, and the Sentinel Service Corps. We believe that all of these, in complementing our curriculum, will help our students pursue the good, the true, and the beautiful. And we're getting ready to launch a Parent Service Organization with an athletics boosters group and an arts boosters group so that parents can be more involved in our community.
Of course, it's the daily routine of teaching our integrated classical curriculum that is the heart of what we do in delivering an American classical education for our students. As headmaster, I am privileged to be involved with much of what happens here with our students each week. The three best parts of my job are, by far: 1) greeting every CLASSICAL student at the main entrance each morning, getting to know our students, and letting them know that we care about each and every one of them, 2) teaching my fifth grade literature class and firing their imaginations each morning at 9:15, and 3) observing our classroom teachers in action with our students. We have, without a doubt, the finest faculty that I could have hoped for — and I mean no hyperbole here.
But don't take my word for it. I'd like to share a couple of the many emails I received at the end of our first week of school. "In four days," writes one pleased aunt, "Cincinnati Classical Academy has given my nephew what three years of public school failed to do! He is ENGAGED and a love of learning has been sparked with the flame of curiosity! Thank you to all the wonderful staff."
And here's another from a CLASSICAL parent: "We know what you and Cincinnati Classical Academy have been doing has been years in the making, yet our son's growth is evident, even in week one… Our first-grade son, while brilliant and respectful, has had some struggles with being disciplined in the little things. He truly loves, as do we, the structure that you and your team are providing. I just want to highlight some items that we've seen our son grow in in the past week: He's saying sorry when he is in the wrong – didn't happen before this week; he's been excited to answer questions about his day; he's playing a bigger role as a big brother; and he's displayed an overall greater role of responsibility."
It's great to read of early successes from the points-of-view of parents. It's an even greater delight to see the smiles on the faces of our students and hear what a joyful time they're having, even as they are working hard with our content-rich curriculum.
I've mentioned this in previous columns, but it bears repeating that we are providing a purposefully structured routine to model respect for the learning environment; inculcating lasting virtuous and respectful habits; teaching students orderliness, responsibility, self-government, proper comportment, and courtesy; and introducing an ambitious standard for students so that they will be proud of their progress and accomplishments!
Thank you for your continued support.
Curate, ut valeatis!
Michael Rose, Headmaster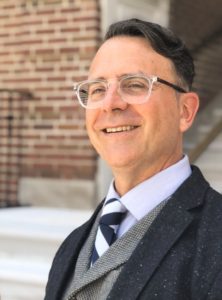 Mr. Rose has taught various courses at Brown University, Cincinnati Moeller, and The Summit Country Day School. As a part of his degree work in education, Mr. Rose's research interests included the Great Books curriculum, the Paideia teaching method, and the "effects of emerging digital technology on student reading, writing, and researching." Read More