Bona Verba From The Headmaster
I am happy to announce that we ended our General Enrollment Application Period last week with 564 students applying for 415 seats in grades K-6. Because of high student demand, the Board of Directors and I decided to add a fourth Kindergarten class and a third Sixth Grade class, bringing our capacity next year to 464 students. We expect to welcome at least 450 students to campus in August.
For those families who were offered a seat — congrats! Please remember that you must accept the offered seat and fully register according to the directions on our
Enrollment Process
page by March 28. Those seats that are not accepted by that date will be auto-declined and will then be offered to students on the waiting list.
For those whose students were waitlisted, please know that you still have a decent chance of being offered a seat over the next few weeks. People's plans change. Some families may simply conclude that CLASSICAL is not a good fit for their child.
They may not like the fact that we require our students to wear
school uniforms
, to read
classic works of literature
, to diagram sentences, to memorize poetry, to
study Latin
grammar or to learn numeracy through the use of
Singapore Math
. They may be looking instead for a STEM school or a place where their children will be taught through the use of Chromebooks, where they watch Disney movies every Friday and play Kahoot! with their cell phones. They may want a school where their child can "learn to code" and prepare spreadsheets in Excel.
That's just not us. Instead, we provide a unique alternative to the typical tech-driven, skills-based education offered up in many public and private schools today. Perhaps that's why we seem to be popular. At CLASSICAL you can expect to find teacher-led classrooms, engaging discussions, history told through compelling stories, the study of primary sources — teachers leading students toward moral and intellectual virtue by means of a rich and robust course of study in the liberal arts and sciences, with instruction in the principles of moral character and civic virtue.
That may explain why we have a waiting list for every grade except the sixth grade (because we just added an additional classroom). But speaking of waiting lists, spots may become available after the registration deadline of March 28. So, stay tuned and check your email each day! Keep hope alive.
Curate, ut valeatis!
Michael Rose, Headmaster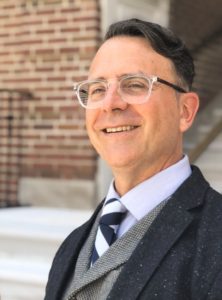 Mr. Rose has taught various courses at Brown University, Cincinnati Moeller, and The Summit Country Day School. As a part of his degree work in education, Mr. Rose's research interests included the Great Books curriculum, the Paideia teaching method, and the "effects of emerging digital technology on student reading, writing, and researching." Read More