Bona Verba From The Headmaster 
If success is measured in terms of numbers, our inaugural Open House on Sunday was certainly a success. More than 800 men, women, and children walked through our doors to explore the beginnings of a tuition-free, Hillsdale K-12 
classical
 education serving 50+ zip codes in greater 
Cincinnati
.
But success can also be measured by palpable delight. Anyone who walked through our hallways, into our classrooms, and around our gym on Sunday couldn't help but feel the excitement, enthusiasm, and delight of the event. "What an amazing feeling all around today!" commented one parent on our Facebook page shortly after the event. And another: "It was a wonderful open house. I was really impressed with the teachers. It's going to be a great educational experience." It's one thing to receive a compliment on a job well done, but it's quite another to see the sheer delight in the eyes of children as they talk to their possible future teachers and meet future classmates.
A day after the event, one father emailed me the following: "Wow, what an amazing open house event you and your crew put together yesterday. As a testimony to the job you did, all three of my children, who were initially highly skeptical and downright opposed to yet another potential school change, came away from the event enthusiastically open to the idea of attending [
Cincy
Classical
]. My wife, who was already on board, was equally impressed and energized by the experience. It was all very professional, informative and exciting."
That's a powerful testimony.
I am grateful for all those who made this event a success, especially Bob Moeggenberg, our facilities manager, who worked tirelessly for weeks cleaning out rooms, hanging banners, painting walls, waxing and buffing floors, setting up tables — you name it, he did it! I also think it's instructive to note that several of our teachers traversed great distances by land and by air to be with us for this inaugural event. Luke Slonkosky (Phys. Ed.) traveled from Minster, Ohio; Helen Mariah Murdoch (5th grade) navigated construction detours to reach us from Hillsdale, Michigan; and Paul Mittermeier (6th grade) flew in for the weekend on his own dime all the way from Tampa, Florida. I think that demonstrates well the enthusiasm and dedication to the challenging job that awaits them.
If you're interested in getting together again with fellow 
Classical
 families and supporters, I encourage you to join us on April 9 from 7:00-9:30 PM in the school gymnasium for our first annual 
Classical
 Trivia Night. 
You can register right here and now
!
Curate, ut valeatis!
Michael Rose, Headmaster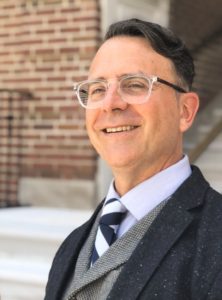 Mr. Rose has taught various courses at Brown University, Cincinnati Moeller, and The Summit Country Day School. As a part of his degree work in education, Mr. Rose's research interests included the Great Books curriculum, the Paideia teaching method, and the "effects of emerging digital technology on student reading, writing, and researching." Read More