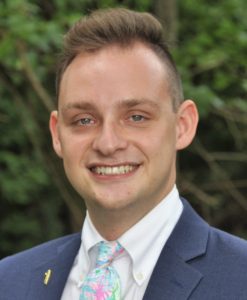 Middle School Humanities Teacher
Bachelor of Arts (Politics with minor in Classical Education | Hillsdale College) 
Master of Arts (Political Philosophy | Hillsdale College)
A Cincinnati native and a double-graduate of Hillsdale College, Mr. Paul Mittermeier worked for three years at Classical Preparatory School just outside of Tampa, Florida, where he served as Classics Department Chair, oversaw the Senior Thesis program, and taught high school courses in Classical Rhetoric (10th Grade), Moral Philosophy (11th Grade), and the Classical Quadrivium (12th Grade) before coming to CLASSICAL. Mr. Mittermeier is an avid reader of ancient and medieval philosophy whose chief academic influences include Aristotle, Cicero, Quintilian, St. Thomas Aquinas, Dante, and Boethius. As a passionate classical educator, he hopes to instill imaginative wonder and a desire for truth, goodness, and beauty within the souls of his students through the art of dialectic. Mr. Mittermeier's extracurricular interests include horticulture; antiquarian books; papal history; classical, liturgical vesture and architecture; and the Cincinnati Bengals. He is delighted to return to his hometown in order to join CLASSICAL's faculty.
"The man who finds his homeland sweet is still a tender beginner; he to whom every soil is as his native one is already strong; but he is perfect to whom the entire world is as a foreign land."
Hugh of Saint Victor, Didascalicon
Are you an educator interested in teaching at Classical?
Join us in helping children to become intelligent, curious, and responsible young adults.