Bona Verba From The Headmaster
One of the primary reasons that I was inspired to apply for the position of Headmaster at Cincinnati Classical Academy was its affiliation with Hillsdale College. Not only has Hillsdale been a shining beacon amid the dimming landscape of higher education, the college's Barney Charter School Initiative (BCSI) has contributed to the renaissance in K-12 classical liberal arts education.
For those of you who may not know, Hillsdale is a private liberal arts college in Hillsdale, Michigan. It was founded in 1844 by abolitionists with the purpose of providing "sound learning" of the kind necessary to preserve the "blessings of civil and religious liberty." In the words of its modern mission statement, Hillsdale "considers itself a trustee of our Western philosophical and theological inheritance tracing to Athens and Jerusalem, a heritage finding its clearest expression in the American experiment of self-government under law." In order to further that mission, twelve years ago Hillsdale College established BCSI in order to promote the revitalization of public education through the launch and support of classical K-12 charter schools such as Cincinnati Classical Academy.
Not content to stop there, Hillsdale College, under the leadership of its president Larry P. Arnn, established an undergraduate "classical education minor" (coupled with a disciplinary major) in order to form future classical educators to go out across the country to further the renaissance in classical education, with the noble goal of offering students a firm grounding in civic virtue and cultivating moral character.
On February 10, I had the pleasure of attending Hillsdale College's annual Classical Schools Job Fair. I realize that I look lonely in the photo above, but for five solid hours I met and spoke with some talented, well-educated, and highly articulate Hillsdale seniors who are enthusiastically embarking on careers in classical education. I cannot exaggerate how impressed I was with these young men and women–some of whom, by the way, will be coming to teach at Cincinnati Classical Academy!
Hillsdale's classical education department is to be commended for its noble undertaking and its palpable success not only in educating some brilliant young Americans but also training them to conduct themselves as consummate professionals. Cincinnati Classical Academy is among its beneficiaries! We are grateful.
Curate, ut valeatis!
Michael Rose, Headmaster.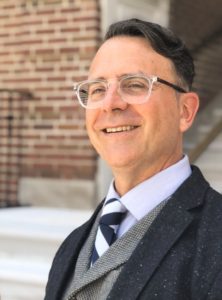 Mr. Rose has taught various courses at Brown University, Cincinnati Moeller, and The Summit Country Day School. As a part of his degree work in education, Mr. Rose's research interests included the Great Books curriculum, the Paideia teaching method, and the "effects of emerging digital technology on student reading, writing, and researching." Read More